The Importance of Dental Exams
Having regular oral assessments you take a proactive stand to retain the health of your teeth. A comprehensive dental exam at DentalWorks - Hyperlingo detects dental caries, gum disease, cancer of oral tissues, and other issues that may be hurting your dental and general health. Generally conducted at routine dental cleaning visits, oral exams Dr. Dentist Two examine the teeth, gums, bite alignment, temporomandibular joints, and various other oral features and can allow for the prompt detection and management of dental problems. To best maintain the wellness and look of your teeth, come in for a regular oral examination at our City, ST facility soon!
Approximately 50,000 people in the U.S. are affected by oral cancer each year. However, this disorder may be completely treatable if detected promptly. Oral cancer is an abnormal accumulation of cells that may take place in or around the, such as on the, mid-face, tongue, saliva glands, jawbone, or the throat, among other oral areas. conducts an oral cancer evaluation during each dental exam to detect precancerous tumors, cancerous tumors, or different concerning developments. The normal symptoms of oral tumors are sores, lumps, convex or coarse areas, and inflamed or pale spots of tissue. Any areas of concern could be removed and analyzed, or you might be recommended to an oncologist for more advanced treatment.
Reviews
"Very happy to have chosen dentalworks stow very friendly and caring I'll be back for all my dental needs"
- T.S. /
Google /
Jun 24, 2020
"I needed a lot of work done and the team taking care of me were great from beginning to end."
- S.M. /
Google /
Mar 15, 2020
"Needed a lot of work on my teeth, and I just love the people here. They're friendly and compassionate; they make my visits as comfortable as possible. Highly recommend!"
- L.L. /
Google /
Mar 11, 2020
"Everyone was extremely patient and helpful. Very kind and wasnt painful."
- A.S. /
Google /
Mar 03, 2020
"They are very nice and friendly. Doctor Najum is always nice and fun to be around Regardless of what the other reviews say this is the best dentist ever"
- N.C. /
Google /
Feb 28, 2020
Previous
Next
Who Should Get Dental Exams?
City, ST locals of every age should be having dental evaluations a minimum of one time every year for preventive treatment. Dental exams should also be conducted as needed to assess tooth discomfort, trauma, or additional conditions that might arise between exams. Periodontal diseasethe main factor in missing teeth and dental caries might not cause obvious symptoms to manifest until the more progressed phases. When dental concerns are identified early, our team can usually offer more conservative treatments for management.
The () all children go to a dental care provider before their first birthday. To address the needs of patients at this early age, our team can address several issueslike new teeth growing in and sucking on the thumb and guide you in cleaning your young one's teeth and gums as their oral structures grow. Routine thorough dental exams might help your growing family develop great oral habits at a young age and allow them to have glowing smiles for many years.
What To Expect During Your Visit
Yearly exams at our City, ST facility start off with a review of your health record. Someone on our team will also ask about any dental concerns or cosmetic smile likes/dislikes you have to uncover more regarding your general dental health. During specific annual appointments, a series of digital x-rays may be done to grant improved insight into the health of your teeth and jawbone. They would then perform a screening for oral cancer, evaluate the balance of your arches and temporomandibular joints, and assess your teeth for breaks, as well as the comfort of any dental fixtures. A exam may also be performed to detect existing indications of disease.
Developing efficient oral wellness habitslike meticulous brushing after meals and flossing no less than once daily can help to decrease your chances for ending up with cavities and gum disease. carries out comprehensive oral exams, on average, once annually, usually at one of a patient's twice-yearly dental cleaning sessions, but might perform exams more frequently for individuals with particular oral wellness problems. Our facility offers a number of comprehensive services, such as state-of-the-art cavity fillings, dentures, and cosmetic veneers, to suit your unique smile goals. When needed, our team will help you plan follow-up visits.
Insurance Coverage for Exams
Comprehensive evaluations are classified under preventive services, which means that they are usually paid for by insurance plans. Prior to your exam, a member of our business staff will assess your unique program and inform you of any potential additional costs. DentalWorks - Hyperlingo is excited to accept many flexible payment options to help assure that all patients can obtain effective, accessible care.
Why does my tooth hurt?
Toothaches are caused by a number of issues. The most common cause, cavities, or tooth decay, create a painful environment around or inside the affected tooth. Some patients may have an abscess, or an infection of the tooth root, which can cause excruciating pain.
How long should I wait to see a dentist if my tooth hurts?
A toothache typically develops from an infection or damage somewhere inside or around a tooth. Treating tooth pain with pain-relieving medication might provide temporary relief. We recommend seeing the dentist if your toothache lasts longer than a day, because your condition can worsen if left untreated.
How is a toothache treated?
After an examination, the dentist may take x-rays to further decipher the cause of your toothache. Once a diagnosis is reached, a treatment plan will be prescribed to address the toothache. These treatments may include antibiotics and fillings to more in-depth procedures, like a root canal or tooth extraction.
How can I prevent a toothache?
The best way to prevent a toothache is by maintaining good oral hygiene practices. Brush your teeth gently twice a day with a fluoride toothpaste and floss at least once a day. If you play sports, consider wearing a mouth guard. And don't forget to schedule regular dental exams and cleanings twice a year.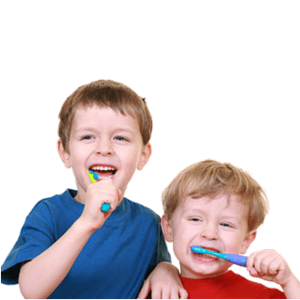 Protect Your Smile With Preventive Care
Having a nice smile involves more work than only seeing a dentist if you notice a problem. Yearly dental exams at DentalWorks - Hyperlingo can help ensure immediate detection and management for oral issues and are critical in protecting your smile. Arrange your family's annual oral checkups with Dr. Dentist Two at our City, ST office today!
Related Procedures
Related Posts