Typically a part of many standard oral care regimens, fluoride is a beneficial mineral contained in some foods and liquids. As a bonus, it is often directly onto the tooth enamel to offer many dental benefits. Fluoride may ward off decay by the teeth more resistant to tartar. This mineral will additionally strengthen the tooth's framework to minimize the initial phases of decay. Communities that add fluoride to drinking supplies typically have decreased cases of cavities between their residents. These advantages of fluoride are noticed by the () and various other reputable associations. At DentalWorks - Hyperlingo, we are thrilled to offer regular fluoride treatments for patients of all ages. To learn more on the ways fluoride could help your dental wellness, arrange a consultation with Dr. Dentist Two in City, ST.
Reviews
"Very happy to have chosen dentalworks stow very friendly and caring I'll be back for all my dental needs"
- T.S. /
Google /
Jun 24, 2020
"I needed a lot of work done and the team taking care of me were great from beginning to end."
- S.M. /
Google /
Mar 15, 2020
"Needed a lot of work on my teeth, and I just love the people here. They're friendly and compassionate; they make my visits as comfortable as possible. Highly recommend!"
- L.L. /
Google /
Mar 11, 2020
"Everyone was extremely patient and helpful. Very kind and wasnt painful."
- A.S. /
Google /
Mar 03, 2020
"They are very nice and friendly. Doctor Najum is always nice and fun to be around Regardless of what the other reviews say this is the best dentist ever"
- N.C. /
Google /
Feb 28, 2020
Previous
Next
Ideal Candidates for Fluoride Treatments
Kids, adolescents, and adults may all be ideal candidates for painted-on fluoride treatments. Fluoride might help ward off tooth decay in children with growing teeth or teens who are more susceptible to cavities. City, ST patients who do not consume fluoride-contained water can additionally profit from professional applications. can recommend fluoride services for individuals who are at an increased risk of cavities, like adolescents or adults who have braces or have (). Fluoride treatments could also serve to minimize tooth tenderness and safeguard exposed enamel, as it is less resistant to cavities.
What to Expect With Fluoride Treatments
DentalWorks - Hyperlingo offers a variety of fluoride options and flavors to these treatments comfortable for all patients. Fluoride treatments are generally conducted every half a year promptly following a professional cleaning and dental exam. When your fluoride flavor is selected, we will ready the treatment as a varnish, foam, gel, or liquid. The fluoride will remain on the teeth for under 5 minutes, based on the formulation, to allow the treatment enough time to penetrate your enamel. To receive the best possible benefits from your service, you could need to wait at least 30 minutes before snacking or drinking beverages.
Fluoride Treatment Aftercare
Sickness might occur if some fluoride is inadvertently consumed; however this might go away within 24 hours following your session. When it comes to a handful of situations, may give fluoride supplements or medical-grade fluoridated toothpaste to increase your fluoride consumption. Since fluoride can be deadly in large volumes, parents should be sure to keep fluoride substances off limits to kids. Even though fluoride services help to defend against tooth decay, it will still be critical to polish the teeth using fluoridated pastes, floss, and rinses daily. Our dental professionals also encourage you to go to biannual oral exams and cleanings at DentalWorks - Hyperlingo so can reassess your overall oral health.
Insurance Coverage for Fluoride Treatments
Routine fluoride treatments might be covered in part by your dental insurance plan. Our facility's payment specialist will go over your insurance plan and help you maximize your coverage. If you have any additional expenses, we can discuss the numerous payment methods taken at DentalWorks - Hyperlingo or help you apply for medical payment programs.
FAQs About Fluoride Treatment
1. What is fluoride?
Fluoride is a mineral found in the bones and teeth that helps to strengthen enamel. It is used in supplements, toothpaste, mouth rinses, and dental fluoride treatments to improve oral health.
2. What happens during a fluoride treatment?
After a dental exam and routine dental cleaning, the teeth are dried fully to avoid diluting the strength of the fluoride. The treatment is administered by gel, foam, or paint-on varnish that is left on the teeth for a few minutes. Once the treatment is complete, you must be careful to spit out all of the fluoride from the mouth.
3. How often can you have fluoride treatment?
A fluoride treatment is usually given every six months after a dental cleaning and exam. However, it can be recommended more often if a patient has weakened enamel or is prone to cavities.
4. Are there side effects if fluoride is consumed?
While fluoride is naturally-occurring, when consumed in large amounts, it can cause serious health conditions. Dental fluorosis occurs when you consume too much fluoride while your teeth are still forming underneath the gums. This can result in white spots on the tooth's surface. This condition usually affects children under the age of 8 who are the most likely to swallow toothpaste.
5. How long should I wait to eat after a fluoride treatment?
To allow the fluoride to penetrate the enamel, you should not eat, drink, or smoke for at least a half-hour after a fluoride treatment.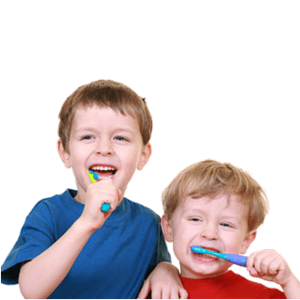 Fight Tooth Decay WIth Fluoride
Improve the condition of your teeth by receiving routine fluoride applications at DentalWorks - Hyperlingo. offers fluoride treatments for children, adolescents, and adults to fortify the teeth, shield from cavities, and minimize initial signs of erosion. Contact our practice in City, ST to schedule a professional cleaning paired with a fluoride application or to discover more about this excellent dentistry treatment.
Related Procedures
Related Posts